Like many organisations, Covid-19 hit us like a truck. As a team of coaches and entrepreneurs, we quickly transformed our processes and systems to cope. It soon became clear that in the upside-down world of Covid, there was opportunity. We had time and space to innovate. How could we enhance our system to better support customers dispersed by remote working?
We hit fast-forward on our system development activities and our new interactive reporting system, iPCS, was born.
For those of you not familiar with PCS, we use on online survey-based tool to measure team and organisational climate. These are the key influencers of leadership performance and wellbeing. The results from the survey are compiled in a report, which until now, had been presented in a PDF document.
Customer-led innovation
We always work closely with our customers and Practitioners and listen to their feedback. As a result, it's been an ambition of ours to transform our primary product into an interactive, web-based tool for a while. We wanted to make it easier for customers to access, interpret and share.
And that's exactly what iPCS does – present data, graphically and in tables, that's easy to interpret supplemented by interactive reference and training material. So, for example, let's say the report reveals a low 'climate score' in the 'Goals' segment of the PCS wheel. Simply click the segment and access a whole host of resources and video content on how to improve the climate score in that area.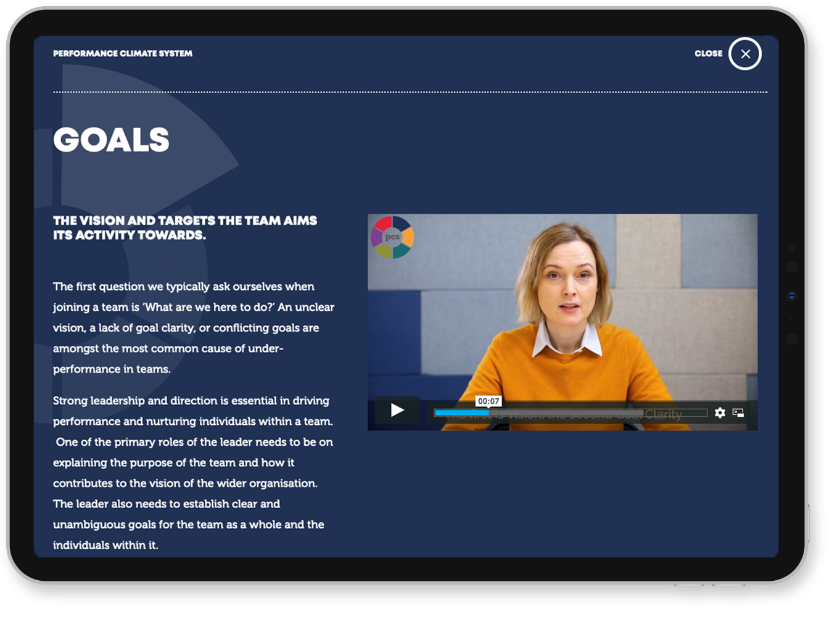 Designed with remote working in mind
For our HR and L&D customers, iPCS is a dream in these remote working times. We generate a personalised URL that takes you directly to your report and set of reference and training material. This can be shared with team leaders or teams wherever they are located. So, any interventions or training required as a result of the report, are at your fingertips without the need or cost of external interpretation. 
For our Practitioners, iPCS provides the data you need to create robust coaching and training interventions and of course, the option to share the data with your clients. We also have the traditional PDF version of the report if you'd prefer to deliver your own content and training interventions plus the ability to download interpretive guides.
Larger organisations and our Strategic Partners have the option to tailor-make the training and reference materials inside the report to fit with their own training and L&D agendas. This makes measuring climate scores a seamless part of wider corporate L&D programmes.
All in all, iPCS is a step change that we can confidently say will benefit our customers. Although Covid has bought many challenges to the business, it's also made us focus on what our customers really need right now.
Try iPCS for yourself
If you'd like to demo iPCS for yourself, please do get in touch. We'd be happy to walk you through the new report and help you understand how it can transform team and leadership performance for your customers or in your organisation.